Nagoya Castle
Tokugawa Ieyasu, the first shogun of the Edo Shogunate, constructed Nagoya Castle in 1612 as the castle of his ninth son Yoshinao and also as a strategic defense in the direction of the Osaka area. It is an elegant castle notable for its jade green roof tiles as well as its golden dolphins (kinsyachi).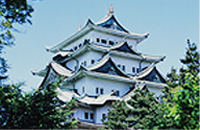 Meitetsu bus (17 min.)
Nagoya
Shiyakusho (City Hall)
Opening hours: 9:00 - 16:30 (Entrance to castle tower permitted until 16:00)
Closed: December 29 - 31, January 1
Tokugawa Art Museum
The Tokugawa Art Museum houses approximately 10,000 objects that belonged to feudal lords of successive generations of the Owari Tokugawa family focusing mainly on the personal effects of Tokugawa Ieyasu. The museum contains nine national treasures including an illustrated handscroll of the Tale of Genji as well as a number of exquisite items that have been deemed important cultural properties.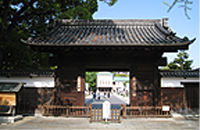 Meitetsu bus (26 min.)
Nagoya
Tokugawaen-shindeki
Opening hours: 10:00 - 17:00 (Entrance is permitted until 16:30)
Closed: Mondays (Closed the following day if Monday is a national holiday.)